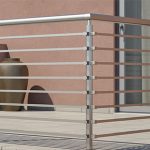 F50 Anodized
F50 Anodized line is based on a simple design and construction perception: a tube system made of anodized aluminium artistically designed giving a fine, highly aesthetic total.
The metal parts may be easily combined with glass or polycarbonate sheets, offering unlimited options of design applications. The several applications of F50 system offer unique solutions to modern constructions, such as:
Balcony railings, proving their particular resistance to various weather conditions.
Railings of internal stairs, giving a sensation of high aesthetics inside houses and buildings. 
Railings of exterior stairs, suitable for modern houses and buildings. 
Railings for stairs at public spaces, particularly useful in large cities, as well as other spaces, such as hotel & domestic swimming pools, etc. for balconies and stairs.